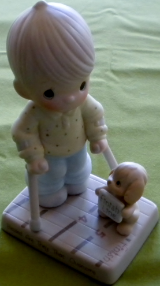 Click to enlarge image(s)
Precious Moments Blessed Are They That Overcome
1988 Special Limited Edition
Little boy on crutches with a little dog holding a sign finish line.
Symbol - flower ( represents God's love for His children)
The original box has the Easter Seals symbol, the that is not on the figurine.

Item being sold as is....USED....there are no cracks or chips, item in very good condition, this was a displayed collection. Original box in fair condition.
For additional information about this item or better shipping rate contact: ter_ware@ymail.com
Note:
All prices in US Dollars