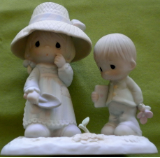 Click to enlarge image(s)
Precious Moments - I Picked a Special Mom

Figurine of a mom holding a shovel, and the little boy with a card and the flower in his hand and just the stem of the flower in the ground.

Limited Edition 1986 Smauel J. Butcher
Licensee Enesco Imports Corp.

This item being sold as is.... used, had been displayed as a collection piece. There are no chips or cracks and is in very good condition. This piece does NOT have its original box.
Please contact: ter_ware@ymail.com for any additional information or better shipping price.
Note:
All prices in US Dollars