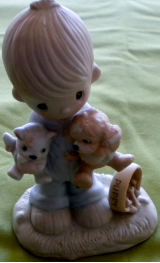 Click to enlarge image(s)
Precious Moments - " Blessed Are the Peacemakers"
Figurine, with little boy holding two puppies, that were fighting over a bowl of bones.
Jonathan & David 1979
Lic Enesco Imports
Triangle Symbol - of the Trinity, God the Father, Son and Holy Spirit

This piece being sold as is....USED in very good condidtion...was part of a collection that had been displayed. There are no chips or cracks, the box is in very good condidition, original wrapping - needs new.
If you have any questions, would like to see more pictures or would like another shipping quote please contact : ter_ware@ymail.com
Note:
All prices in US Dollars